If your children are in the 5th grade or younger,
we have an age appropriate class for them.
We're going to look after your children while you're with us so you can experience worship distraction free. We fully understand the amount of trust required to place your child in the care of someone else. We do not take your trust for granted and we will do and have done everything in our power to insure safety and enjoyment for your little ones. We place a high value on children and families and you can rest assured that the Redemption Kids staff is going to love and care for your children in a grace filled way.

We have a computerized check-in system that is fast, effective, and user friendly. You and your child will both receive a tag with a unique barcode on it, to insure the safety and protection of your child, specifically during pick-up time after our worship gatherings. If you are a first time visitor with children, you should expect about a three minutes check-in process. Returning guest can check-in their kids in less than 30 seconds. That's fast!
Babies & Toddlers (0mo to 30mo)
Friendly volunteers who are well-aquatinted with tears, drool, and the other things babies and toddlers do are available to care for your youngest ones in our baby class.
Pre-School (30mo through Pre-K)
High-energy and excited volunteers are prepared to care for and teach your little ones in the pre-school class. Lots of intentional play time and age-appropriate teaching will take place during class time. We do ask that kid's be potty trained before they move into the pre-school class.
K-5 (Kindergarten to 5th Grade)
This class is very structured and will include a time of worship and an age-appropriate lesson followed by small group sessions divided by age, where leaders will help your kids dig deeper into the content of the day's lesson and know Jesus better.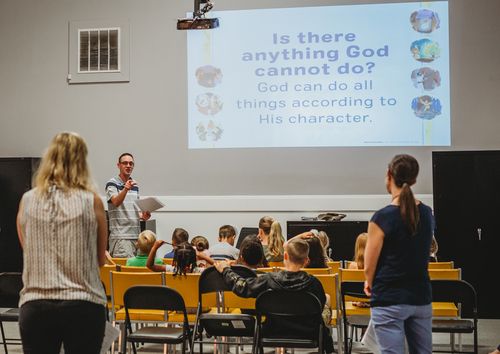 If you have any questions concerning our Kids Ministry, please submit them below.